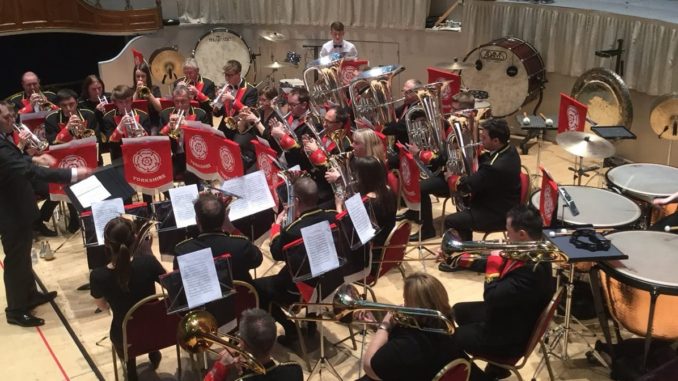 After a hectic start to the year this was the first big event for us the Yorkshire Regional Championships at the Huddersfield Town Hall. Months of practicing Gilbert Vinters Symphony of Marches and it all came down to the 13 minutes on stage one performance after all the meticulous work done by all the band.
The day for us began meeting up after lunch for a run through before the draw playing 8th in the first section meant an evening appearance on stage.
The band played well and all came off the stage happy with their performance now it was all down to the adjudicators in the box, the time had come results time was upon us. Unfortunately the result was not what we had hoped for 11th place, but at the end of the day that's contesting you against the man or woman in the box.
After the last few months we now have something to build on and we were able to keep the bands position in the 1st Section for another year.
Sadly due to work commitments this has been the last job for two players our 1st Horn player Ian Dean and our Bb Bass player Michael Blackburn. We would like to take this opportunity to thank them for all there hard work and commitment during there time with us and we wish them all the best in the future.